GNOME/2 (English page)
---
OS/2 - better UNIX than Linux.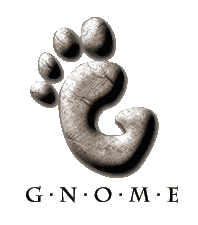 Latest GNOME/2 News. | Russian version.
Have you ever seen how beautiful Linux X applications are? For example Englightenment or apps from GNOME projects. Those transparent windows, magnificent controls, striking picture viewers and many other crazy yet beautiful things common Linux users have? In case not, I advice you to do it just now and hey, here is a list of links where you can get some screen shots of X desktops.
GTK Themes Site with many nice screenshots
Englightenment site
Themes for various Window Managers
GNOME applications screenshots

I understand the reaction of many people. Oh those GUI, what for? I do not want nor transparent windows, nor CD player, which shows for some strange reason the position of the sun and the moon :-) and etc. So if you really do not want such thins just leave this page - it is dedicated to all this GUI things and to big idea of seeing all this in OS/2.
Electric Eyes available!
Well GNOME/2 is proud to present you first GNOME application - the first of the many. Electic Eyes is a great image viewer with many options and with great rendering speed. It will be fun if you just test it and send us reports or even bug-reports :-) Before actually running EE, be sure to update all libs on your computer, with latest versions. Do not worry, all your other applications will still work. Remember you too can now customize ALL controls using GTK themes from gtk.themes.org. Have fun with it! Btw it will be grand if you'll make your own theme. Sad to say but now I am unable to visit Mr. Hung Chi Chu's site, the link is very bad, so
download
EE directly from him. Screenshots will be available later, when I myself will get new libs and EE itself.
Facts and figures
Almost all GUI special beautiful applications in Linux appear with the installation of the Englightenment window manager, on the base of which GNOME (Gnu Network Object Model Environment) was created. This system consists of small number of libraries and rules and many applications which use them. In the heart of this system lies GTK (Gimp Tool kit - yes, yes it is GIMP base library). GTK is fully ported to OS/2 for XFree86/2 and thanks to it we can launch all other GTK applications, created by Linux users.
The main idea
To organize an international project GNOME/2, the main idea of which is to port all GNOME applications to OS/2 (XFree86/2). We do not plan PM versions right now but our sources may be used later with Everblue project. As the kernel of the system i.e. GTK is already ready, in most of cases all porting will consist of Makefile corrections and compilation of the binary file or library. As about Englightenment, it is already ported, but needs some polishing. But not everything is so simple - we will have to deal with sound applications (mp3 player or mixer - we have to face the facts - Linux mp3 players are far more supreme in beautification's than OS/2 ones) - so here we will need to change sources.
My current work
I am looking at people reaction, reading your mail about joining the project. To tell the truth the project is not VERY complicated, so 10-15 active programmers will be just ok. Programmers with knowledge in OS/2 sound programming are also HIGHLY welcomed. Btw I already have great and good news: Mr. Hung Chi Chu, the porter of GIMP and GTK agreed to coordinate and supervise our project.
What do you need to do to join the project
Knowledge in C/C++, willingness to help, but not in words only, XFree86/2, X development toolkit,latest gtk and glib, latest gnome-libs, knowledge of how to compile gtk based application and launch it, brief acquaintence with www.gnome.org, Internet access. I understand, this list is big, but what can I do, you need not know HOW to write in GTK, but you must know how to compile sources written in it :-)
Before joining us
I understand that it is just porting of other's applications but you are given a chance to help your OS not in words but in apps. So please think twice, make all neccessary preparations and write. Btw I may ask you to send me binary file of some GTK examples with sources and some small description to test your skills.
New XServer issues
X TrueType servers (13Jan99 ), its homepage
Required Lib
FreeType
Note
These servers have no xshm problem. All small servers are without PEX, XI, XIE support.
Version: XFree86-3.3.3.1, xtt-1.1pl04

S8514.zip : IBM 8514/A and compatible boards
SAGX.zip : AGX boards
SI128.zip : #9 Imagination 128 boards
SGlnt.zip : Permedia2/GLINT/3DLabs boards
SMa32.zip : ATI Mach32 graphics boards
SMa64.zip : ATI Mach64 graphics boards
SMa8.zip : ATI Mach8 graphics boards
SP9K.zip : P9000 based boards
SS3.zip : S3 based boards (except S3-ViRGE)
SS3V.zip : S3-ViRGE based boards
SSVGA.zip : 8-bit pseudo-color X server for Super VGA cards
SVG16.zip : 4-bit pseudo-color X server for VGA & SVGA cards.
SW32.zip : et4000w32 based boards

Correct Shm for Enlightenment, GIMP & all XServers: shm.zip, shmdll.zip
If you do not need TrueType fonts support please download XServer without it.
What next?
Well we will discuss our tasks and port GNOME kernel all together, after that we will give each member lib or app according with his wish. After kernel libs and apps will be ready we will link them to GNOME binary tree.
What real things can we gain from this project?
Engligtenment/2 and many other beautiful and useful applications, for example news reader and IRC module. And of course the reality of the words: "OS/2 the better UNIX, than Linux".
Contacts
If you want to join our team please mail your ideas and wishes to
Platon Fomichev
or if you have technical questions to
Hung-Chi Chu
---
Интересные ссылки:
Лучших бизнес
.
---
Комментариев к странице: 0
|
Добавить комментарий
---
Домой | Проект ядро Core/2 | Проект OS/4 Download | Новости | Гостевая книга | Подробно обо всем | Нужные программы | Проекты | OS/2 FAQ | Всячина | За и Против | Металлолом | #OS2Russian | RDM/2 | Весёлые картинки | Наша галерея | Доска объявлений | Карта сайта | ПОИСК | ФОРУМ