T&V HappyPlayer (English version)
---


T&V HappyPlayer is an OS/2 program that operates TV cards built on Brooktree BT848 chip. It possesses such features as picture scaling, clipping, channel autoscan, separate tuning of signal coding (PAL/SECAM), brightness, contrast and color saturation for each of 100 channels, support of channel descriptions in a text file, and some more. It is good to notice that unlike other programs, T&V HappyPlayer does not hog CPU.
System requirements
Hardware requirements
PC-compatible computer
PCI 2.0 bus (some TV-cards may require PCI 2.1)
TV-tuner card based on Brooktree/Fusion BT848A chip (or newer).

Models already supported:
AIMSlab Video Highway Xtreme
FlyVideo II
FlyVideo 98
FlyVideo 98FM
AVER TVPhone98
AVER TVPhone
AVER TVCapture98
AVER TVCapture
Tekram M205pro
ProLink PixelView
Vobis Highscreen
ATI TV Wonder
Miro TV PCTV (untested)
Miro TV PCTV Pro (untested)

SVGA video with 8, 15, 16, 24 or 32-bit color (8-bit mode is not recommended for color monitors because of very strong color distorsions); VRAM (SGRAM) video memory and 800x600 or better resolution is recommended
TV system with SECAM and/or PAL signal coding. No NTSC support yet, sorry!
Setting the program to given TV-card model is described in readme2.rus file. If you've got one of TV-cards marked 'untested', please tell us the results of running T&V HappyPlayer with it!
Software requirements
IBM OS/2 Warp 3.0 or higher
Presentation Manager
DIVE
To speed up window dragging we recommend to switch 'Full window dragging' mode off
Never DON'T USE T&V HappyPlayer in direct video memory access mode with third-party utilities, which extends OS/2 Desktop out of physical screen bounds! Because of PC architecture concepts, TV-card works with memory on physical layer, without using virtual memory and protection schemes, so this may cause TV-card to write video data out of video memory, to PC RAM or peripherial devices' memory, and so to INCORRECT SYSTEM BEHAVIOR, DATA LOSS, and in heaviest cases - to PHYSICAL DAMAGE OF EQUIPMENT (e.g. losing flash memory content).
THE AUTHORS MAKES NO WARRANTIES OR CONDITIONS EITHER EXPRESS OR IMPLIED, INCLUDING WITHOUT LIMITATION, THE WARRANTY OF NON-INFRINGEMENT AND THE IMPLIED WARRANTIES OF MERCHANTABILITY AND FITNESS FOR A PARTICULAR PURPOSE, REGARDING THE PROGRAM. THE AUTHORS WILL NOT BE LIABLE FOR ANY DIRECT OR INDIRECT DAMAGES, INCLUDING WITHOUT LIMITATION, LOST PROFITS, LOST SAVINGS, OR ANY INCIDENTAL, SPECIAL, OR OTHER ECONOMIC CONSEQUENTIAL DAMAGES, EVEN IF THE AUTHORS ARE INFORMED OF THEIR POSSIBILITY.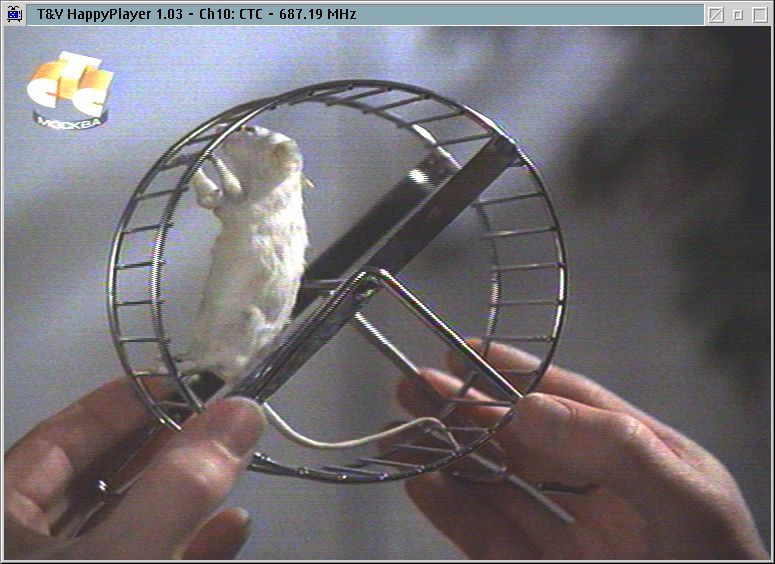 Answers on frequently asked questions are given in faq.eng.
This program is shareware. See register.eng for details.
Latest T&V HappyPlayer: Version 1.15 - 28.10.2003 (tvh_115r.zip, 102k).
What's new in latest version:
1.15 -- 28.10.2003
A try to avoid image offset on new ATI cards.
1.14
eComStation/Rus Special Edition
1.13 -- 15.06.2002
Fixed a bug in /IDLE parameter processing.
/TOP - working in Float-on-Top mode, i.e. T&V HappyPlayer window overrides others. This causes some speed-up of visibility area recalculation. Note that Window List ignores this flag, and when it overlays HappyPlayer, their windows displays incorrect.
1.12 -- 05.06.2002
Error with channels in 140-168 MHz diapasone with FlyVideo 98FM. Fixed.
Slightly reduced needed recources.
/TV:TVWONDER -- ATI TV WONDER support.
/OFFSET:n -- manual setting display window area offset from DIVE's value (bytes). 0 by default, and don't change it unless you absolutely sure! Use it on your own risk. Incorrect usage of this parameter may cause OS problems, data loss and ever physical device damage!
Physical memory address detects correctly on nVidia cards now, so, it's possible to use them without buffering.. Great thanx to Vadim Ochkin.
1.11 -- 20.01.2002
/IDLE - sets IDLE+31 priority for buffering thread
1.10 -- 23.04.2000
/TV:M205PRO -- Tekram M205pro support.
Backspace key switches to previous active channel.
/TV:PIXELVIEW -- ProLink Pixelview support.
/TV:HIGHSCREEN -- Vobis Highscreen support.
/TV:FLYVIDEO_98FM -- FlyVideo 98FM support.
/TV:FLYVIDEO_IINEW -- new FlyVideo II support.
'o' key displays current settings in titlebar.
Plugin support. If PLUGINS subdirecory in happy.exe home directory is created, T&V HappyPlayer, tries to install all DLLs from there as plugins. Plugins programming notes see in plugins.eng file.
First version of plugin for Aver TVPhone98 remote control support - AVER98RM.DLL. Place this DLL from SDK to PLUGINS directory to use it. Remote control acessed by polling, so CPU usage with this plugin is more than 0%.
1.03 -- 17.10.1999
A stupid error fixed: odd and even lines in TV image were swapped.
Picture was disappeared in some sophisticated situations (e.g. after minimizing/restoring window during autoscanninh).
Fixed.
No more traps on fatal errors.
Running a second copy of the program caused picture disappearing in a first one. Fixed.
Corrected PAL initialization to use PAL-B,D,G,H,I. May be useful for Aver cards.
Added initialization for TDA8425, TDA9840, TDA9850 sound chips. /MONO command line switch causes initializations in monophonic mode (useful for Eastern Europe).
1.02 -- 04.08.1999
New english homepage for T&V HappyPlayer project: http://www.os2.spb.ru/russian/projects/happyplayer/index_e.html
Now storing window size and position and channel number between program runs.
Fixed infinite loop on autoscanning with some cards.
Autoscanning didn't work in PAL mode -- fixed. Unfortunately, scanning speed in PAL mode is twice less than in SECAM, because of nature of these standards.
Improved color representation by changing U and V chroma gain coefficients. Maybe you would need to correct hue, contrast and brightness values for your channels.
Removed vertical interpolation by 2- and 4-degree polynomes, because it actually didn't improve image quality but somewhere caused DSP freezing.
Fixed FlyVideo II detection. Should work correctly now.
1.01 -- 14.07.1999
Changed primary support FTP site to ftp.os2.spb.ru.
Trying to switch sound sources both with video sources (seems not quite well).
'D' key restores default values for brightness, contrast and hue for a channel.
New card type AVER_TVCT -- Aver TVCapture with Temic tuner (instead of usual Philips). Untested.
Corrected band margins for FlyVideo, FlyVideo98. All channels would be accessible now.
Added preliminary support for Miro TV PCTV and Miro TV PCTV Pro. Because of absence of these cards in Russia, all work was done in theory. Types MIRO_PCTV and MIRO_PCTVPRO. Untested.
More stable frequency setting by [/].
Vadim Rumyantsev
Tatiana Rumyantseva

---
Новые статьи на нашем сайте:
---
Комментариев к странице: 0
|
Добавить комментарий
---
Домой | Проект ядро Core/2 | Проект OS/4 Download | Новости | Гостевая книга | Подробно обо всем | Нужные программы | Проекты | OS/2 FAQ | Всячина | За и Против | Металлолом | #OS2Russian | RDM/2 | Весёлые картинки | Наша галерея | Доска объявлений | Карта сайта | ПОИСК | ФОРУМ